Ross Woods
Mortgage Lender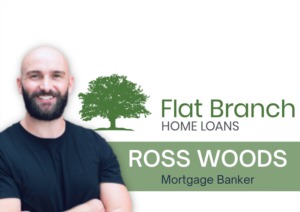 Ross is a loan officer at Flat Branch Home Loans. In this role, Ross prequalifies prospective clients, generates home loans, communicates with all parties involved in transactions, maintains up-to-date with knowledge of the ever-changing industry, and much more. 
Ross began in the industry on the title side, and eventually made the transition to his current role as a loan officer. He understands what the process entails and makes sure to help his clients get what needs to be done efficiently. Before joining Flat Branch Home Loans in August of 2016, Ross was responsible for recruiting new students as an out-of-state representative, which required extensive out-of-state travel. He met many people along the way and really enjoyed his job, but he knew that one day he would get back into mortgages, which is why he is where he is today! 
Working one-on-one with a local, experienced loan officer backed by knowledgeable staff is very important. In-house processing and underwriting allows Ross to better serve clients and help to make the process as smooth as possible. Ross looks forward to giving each and every one of his clients the best experience in the purchase of their new home!